This is a fairly new website, we are just starting out. Many recipes will be added, and a lot of editing will take place. Please come back again from time to time and see our progress. It's our goal to be the website to go to for traditional and contemporary healthy Navajo food! This website is created and designed by Native Child

We have published a book with 20 traditional Navajo Recipes, available now on our website and also from this site. You find more bilingual publications at our site, some free for download.
There was a time, not too long ago, when everything seemed fine, at least health wise.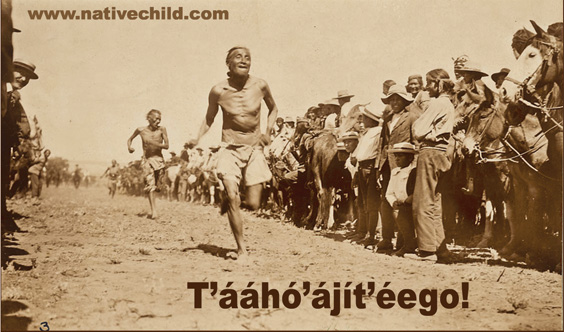 People had corn fields and sheep and busied themselves all day with work. There were things to be taken care of: corn had to be planted, harvested or ground, food stuff had to be prepared, firewood had to be hauled and chopped, and a lot of preparation time and physical activity went into putting on a sing. Herding sheep kept the kids moving – sometimes they were sent out in the morning without food, so they had to hunt rabbits and cook them during the day to feed themselves.
All that has changed: Today young  children are falling short on their intake of calcium and iron-rich foods while overdoing sugar-sweetened drinks and high fat snacks.
What happened?
This was a typical diet between 1910 – 1920, as described by an Elderly in 1980:
Morning Meal
Soup of cornmeal, wild celery, wild onion, local rock salt, and sometimes rabbit. Navajo goat milk pancake or other corn bread.
Afternoon meal
A cornmeal dish such as mush, paper bread, goat milk pancake, blue bread or dumplings made from ground wild seeds. Roasted meat such as rabbit, deer, antelope, or mutton. Boiled dried apricots (occasionally), wild tea.
By the 1940s  a predominant corn based diet gave way to a white wheat flour diet: A daily diet of mutton or goat meat (saved for special occasions when food supplies were meager), coffee, wheat flour bread, and potatoes, with an occasional addition of canned or fresh fruit and vegetables was about the same in all homes. When the family could afford it, spam and onions were added to the fried potatoes. Goats were milked in the morning and late afternoon. Children drank the milk as it came from the goats  and the elders boiled it and enjoyed it with tortillas and coffee. Contrary to popular belief, fry bread with coffee was served only occasionally, and it was a treat.
The Trading Posts had made a big impact on food preferences of the Diné.
"The 1940s and 1950s were turbulent times for the Navaho. In these two decades the Navaho experienced major assaults on their way of life  by the federal government through forced livestock reduction, religious persecution by Christians and assimilationists, and by World War II." (cited from: Herbert John Benally in Doty, Benally, and Collier, Photographing Navajos.)
Today, only a few  grocery stores with limited access to fresh produce are established on the Reservation. Most people have to rely on convenience stores and fast food restaurants if they want to avoid the long drive to reservation border towns. Diabetes and obesity are the two outstanding health problems among the people. Already in 1997 the Centers for Disease Control estimated that 23 percent of Navajos older than 20 had diabetes. The USDA labels the Navajo Nation as a food desert – a place with  very limited access to healthy food.
There are efforts on the Reservation to revitalize traditional farming methods and provide healthy, local food to the communities. Renewed interest in traditional food is growing.This website wants to contribute to the revitalization of a diet that has proven itself for hundreds of years, and is based on unique traditions that have their roots on this continent dating back thousands of years. We can learn from an intuitive food wisdom of the people who lived on this continent before us. It also includes contemporary tributes to traditional recipes.